Maintenance Program
The Ben Franklin Society Membership Program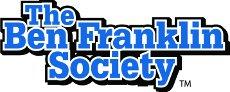 The Ben Franklin Society is a plumbing maintenance membership service club that is limited to a select group of our customers. What is it worth to you to extend the life of your water heater, protect your home from unexpected plumbing breakdowns or worse - water damage? The Ben Franklin Society is plumbing security for your home. Now for only pennies a day, you can protect yourself from costly and annoying plumbing problems. Your Ben Franklin Society membership includes; one professional safety inspection, leak check and water heater tune-up for your plumbing system annually. You benefit in 3 ways; saving money and your home, breakdown-free guarantee and premier client rewards. Ask your servicing plumber for details.
Take a look at the following member benefits you get for a low monthly fee:
We catch the small problems before they become big problems.
We know the value of plumbing maintenance. With your membership, our experienced plumber will inspect your home once a year, and check for small leaks that could become big problems.
We will professionally inspect and flush your water heater.
Once a year our experienced plumber will flush your water heater and complete a 14-point inspection. This process will extend the life of your water heater and decrease the risk of untimely breakdowns.
You go to the front of the line!
With your membership in The Ben Franklin Society, you receive priority service and move to the top of our appointment book in the event you need plumbing service.
You get a 15% discount on repairs and replacements.
The Ben Franklin Society provides you with a preferred 15% service discount, should you need any plumbing repair or fixture replacement listed in our price guide.
You get our promise as Benjamin Franklin, The Punctual Plumber.
As a member of The Ben Franklin Society, your home is protected from the annoyance of cold showers and unforeseen plumbing problems. Plus, we can reduce broken water lines. You'll go to the top of our service list and we won't keep you waiting around. If there's any delay, it's you we pay! If you move within our market area, you may transfer your club membership to your new home or leave it with the new owner.
Ben Society Rewards is a book of coupons packed with discounts at name brand businesses in your area. You can save up to 50% or get 2-for-1 deals at restaurants, shops, hotels and more! You'll even have access to online deals with printable coupons right from your home computer for shopping discounts from top retailers.
Berks County: 484-823-1037
Pottstown :
484-893-0906
24/7 Emergency Service in
Berks
County & The
Pottstown
Area